While shopping is usually not the main reason most people come to Guanajuato State in Mexico, it's rare that anyone goes back without a few extra items in their suitcase. While it may not have the wealth of artisans you find in Oaxaca or the range of wine and spirits options you'll find in Baja Norte and Jalisco, respectively, Guanajuato is tops in a few other categories. There are plenty of interesting stores and markets to peruse in multiple locations.
Guanajuato State is one of the most popular in central Mexico for foreign visitors, partly because it attracts so many different kinds of travelers. San Miguel de Allende has been ranked as the #1 small city in the world in several travel magazine reader polls and attracts tourists, artists, and retirees who are moving abroad. Guanajuato City, the capital, is popular with language learners, culture seekers, music fans (during the annual Cervantino Festival), and history buffs. Dolores Hidalgo is a major pottery center and the wine region around there and San Miguel has been coming on strong. Business travelers come to Leon by the planeload: the city is a major leather, shoes, and automobiles manufacturer.
So while Guanajuato shopping may not be the primary reason you booked a flight to the Bajio airport, you might want to bring a credit card with no foreign transaction fees and be ready to pull some extra cash out of the ATM after arrival.
I, your humble editor of Luxury Latin America, am based in the capital city of Guanajuato. Plus I travel around the state regularly and have outfitted my home with items I've purchased in the region. So if you're looking for recommendations on where to go shopping in this part of central Mexico, you've got the inside scoop here.
Shopping in Guanajuato City, the Capital
Guanajuato, Guanajuato—as the Mexicans usually call it—is a UNESCO World Heritage city, dating back to the 1500s as a Spanish settlement and flourishing for centuries as a center for silver mining. It's a unique city in that most streets are pedestrian-only and it's hard to find a right angle anywhere, in sharp contrast to the usual Spanish Colonial city grid layout where everything emanates from a central square. Colorful houses spill down the mountainside to a narrow valley city filled with historic churches and buildings.
Guanajuato City gets plenty of tourists, but mostly domestic ones: this is where the fight for Mexican independence started. That keeps prices in check, including for souvenirs, so you can find some great bargains here when shopping. One of the best things to do in Guanajuato is to wander and see what you find, especially since shops come and go regularly, so consider these recommendations of established places as just guideposts.
There are interesting galleries and shops all down Calle Positos between the university and The Alondiga historic site and if you hit it the right weekend there's an art walk. The other sometimes closed-off street is Alonso: go down that from the Jardin de Union, then take a left on the city's main drag to find shops to stop in on the way to Hidalgo Market (Mercado Hidalgo).
Azuelos y Loza Talavera Vasquez
This long-running shop is narrow but filled with treasures: Talavera tiles and pottery sourced from nearby Dolores Hidalgo and Puebla. Some of the items may not fit in your suitcase, like a full Talavera sink for your bathroom, but they can ship internationally on request. It's a great place to pick up some ceramic shot glasses, coffee mugs, house address numbers, or accent tiles for that upcoming renovation project. On Cantarranas Between the Jardin de Union and Plaza Barratillo in the center.
La Casa del Quijote
Another shopping institution in the center, on Sopena pedestrian street near Plaza San Francisco. La Casa del Quijote is primarily a silver jewelry store but it also has a variety of other high-quality items for discerning shoppers. There are hand-made textiles and blankets, pottery items, and a few imports from Oaxaca like alebrijes—the fantastic creatures made from wood.
If you exit this Guanajuato store and head left, just staying on the same street, you'll pass several other jewelry stores before and after Plaza de la Paz that are worth checking out if you don't find what you like here. Many of them also sell beautiful embroidered face masks, an appropriate gift in this day and age.
La Casa de la Abuela
Another store that has been a local fixture for ages, La Casa de la Abuela is stocked with interesting handicrafts large and small. From hanging glass hearts and hand-blown glass light fixtures, the collection moves on to easier things to pack like painted wood items on Day of the Dead themes, accent tiles, and magnets. It's like a mini-museum worth strolling through just to look, with antiques, jewelry, and other surprises in the corners. On pedestrian-only Truco street beside the Basilica.
The Guanajuato Artisans Market
This delightful collection of artisan goods first showed up around the Christmas holidays, then became a seasonal opening, until finally becoming a permanent market across from the Basilica church and Plaza de la Paz. Housed in a historic building that's a work of art in itself, the meandering rooms are home to themed collections of goods that are high quality and made locally.
It's hard to run down the whole list of what you'll find here as it ranges from hats to handbags, tile and tin mirrors to ceramic coffee mugs. One stand will be selling leather goods, and hand-crafted lamps. You'll also find artisanal chocolate, natural soaps, and snack items.
Mercado Hidalgo
This Guanajuato market is the largest and most popular market in the city, built in 1910 and resembling a European train station. It's an interesting mix of stalls for locals and ones for tourists. On the ground floor, you'll find produce stands, eateries, and butcher shops, all mixed in between stores selling random items like baskets, electronics, and purses.
Take the stairs up to the second level, which is a mezzanine circling the building, and you'll find dozens of souvenir shops selling ceramics, t-shirts, toys, and more. The overall quality is not on the same level as you'll find at the artisan's market, but you might find a fun gift or two. There are more similar stalls on the left outside of the building as you face it, while the right side is mostly items for locals like herbs, bootleg DVDs, and vegetables.
Dolores Hidalgo Pottery, Ceramics, Antiques, and Wine
Dolores Hidalgo was one of the first "magic towns" to earn that designation in Mexico, before the label became so diluted with 100+ more dubious choices. It was here that the father of independent Mexico, Miguel Hidalgo, let loose with a rebel yell and then gathered up fighters for the march to San Miguel and then Guanajuato City.
It has long been Mexico's second most important pottery center after much bigger Puebla and the latter city created a nit-picking difference when it got a "designation of origin" for the word "talavera" in the late 1990s. Still, it's widely used here too since many of the designs are the same in both places. The majolica pottery style, of which Talavera is a part, took Spanish designs and adapted them to Mexico, eventually adding more variety as the centuries went on. You see items from Dolores Hidalgo throughout Mexico in homes and buildings, plus some Mexican families have entire sets of hand-painted dishes from here with service for eight or twelve.
Pottery Shopping in Dolores Hidalgo
You won't have to do a lot of running around to shop for Talavera items in Dolores Hidalgo. Even if you don't have a car, you can walk from the center or take a quick cab ride to get to Calle Jose Alfredo Jiminez, named after the famous singer who was born here and is buried nearby. There you'll find dozens of shops—some junky, some high-quality—selling simple dishes and elaborate works. Take your time to explore because sometimes the smaller shops have better goods than the ones with a big storefront.
If you have a car, you can visit some of the actual factories on the edge of town. The ceramics industry here is a big employer and some businesses ship internationally. If you want boxes of tiles or need something large shipped, they can make it happen.
Antiques and Wine Off the Highway
The road between San Miguel de Allende and Dolores Hidalgo is lined with antique shops, many items from here finding their way into bars, restaurants, and local homes. Some of the items are too big for visiting tourists, but it's fun to browse and see what's here, especially in the gigantic and quirky outdoor Museo Mexico Lindo. There are also some free-standing stores selling pottery and items carved from wood, including furniture.
Dolores Hidalgo is the center of the Guanajuato wine region, with five established wineries near the city. All of them do tastings with a reservation and you can also reserve a table for a meal with wine at the excellent restaurants of Tres Raices, La Santisma Trinidad, or Cuna de Tierra wineries. Naturally, you can grab a bottle or two to take with you if you find a Tempranillo, Nebiollo or Cabernet Franc that you really like.
Shoes and Leather in Leon Guanajuato, Mexico
Leon, Mexico is not a tourist town, but it is known as "the shoe capital" in this country and its leather industry is so large it hosts a twice-yearly convention for buyers and sellers. From high heels to hiking shoes and cowboy boots to leather jackets, in Leon you'll find an overwhelming choice of items made from cowhide and more exotic skins.
Shoes and Guanajuato Boots by the Thousands
The reason the choices are so overwhelming in Leon is that there's an entire indoor market that spills over outdoors, several malls devoted to nothing but shoes, and a big outlet mall for brands domestic and foreign. The shoe and leather market is no one-building affair either: it sprawls for several blocks near the bus station, not far from downtown, and if you spent just two minutes in every store you would be here for days. You can find almost any kind of shoes from Mexico that are made in the country. With this much competition, prices are good too, with many pairs going for half or less what a comparable type would be in the USA or Europe.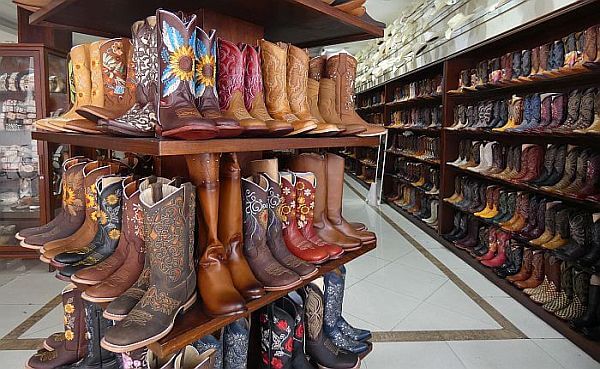 Mexico boots are rightfully famous with cowboys and those who just want to look like they spend time on a ranch. Some of the largest boot companies are skimping on quality while outsourcing to Asia, so "made in Mexico" has become a sign that you're getting something crafted with care that's going to last.  Some of the international brands exported from here include Hondo, Tecovas, Lane (for women), Chisos, Bachesto, Old Gringo, and custom ones from JW Boot Company. See a full list and more explanation of each here in this article.
The Chisos brand uses softened adult cow leather instead of the more common calfskin, which certainly seems more humane. You can hear a podcast interview with Chisos founder Will Roman, including why all his boots are made in Leon, at this link.
More than 450 Shoe Brands at the Outlet Mall
While the big shoe and leather market can be hit-or-miss when it comes to quality, and there are more than a few knock-offs, you will find name brands and a higher level of quality at the Muzla outlet mall for shoes. It's on the main road to the Leon city center from the airport and you can't miss it: there's a giant red stiletto outside by the entrance.
This shoe outlet mall in Leon has every Mexican brand there is it seems, including many that are only well-known to domestic buyers. Plus you'll find many of the international brands you're familiar with, but at deep discounts because most of the shoes are the ones made locally. They don't have to come by ship all the way from China or Vietnam. There's more variety in the styles here, you're unlikely to find counterfeit goods since the stores are run by the brands, and it's easier to navigate than the sometimes chaotic and cramped market.
Leon Leather Shopping
Shoe and boots aren't the only things made from leather, of course, so there's a wide variety of other items in the market and the stores–including at the outlet mall. You'll find a staggering range of belts, purses, wallets, and leather bracelets that make good gifts, or treat yourself with a soft leather jacket or maybe a leather cowboy hat. If you're a real equestrian, you can find hand-crafted horse saddles for sale too.
If you want a shortcut to quality leather goods, the brand Cuadra is one of the most respected in Mexico, with stores throughout the country. They have one near the shoe market at Blvd. Adolfo Lopez Mateos #1601. (They also have a store in San Miguel de Allende.)
San Miguel de Allende Shopping
If you're looking to buy handicrafts, souvenirs, or fine art, this tourist and expat magnet is a great place to explore. They have plenty of non-junky items that are reasonably priced in the indoor/outdoor Artisans Market. Or explore the shops near centro for apparel, unique jewelry, and one of the best art scenes outside of Mexico's capital city.
We did a whole article last year on our store and market picks for the most popular city in Guanajuato State, so go to that San Miguel de Allende shopping article for a full rundown with recommendations.
Haven't picked your place to stay? See our detailed reviews of the best hotels in San Miguel de Allende and Guanajuato.
For other ideas of what to do, see the official Guanajuato State Tourism website.