You roll off the golf course, pick up the kids at your house, and head to one of the Punta Mita beach clubs for lunch, looking at the waves roll in on the shore. Or you have a leisurely breakfast at the villa, call up a few friends, and meet at the club. You all lounge by the pool and stroll some of the prettiest beaches north of Puerto Vallarta. If you live or rent in this large but private community, a place where you have access to the water is only a bike ride or cart ride away.
The Punta Mita Beach Clubs are some of the most exclusive in Mexico, open only to residents of the Punta Mita housing developments and those who are renting from them. When the first houses went up here at the end of the last century, there was only one club for residents. As the project's acres have gotten filled in, more clubs went in as well and now there are multiple ones with different views and personalities around the peninsula.
Here's what you can expect to find at these private Nayarit beach clubs if you're renting a luxury villa from the likes of Agave Villas or you buy property in this gated community.
Kupuri Beach Club
This is the largest and grandest of the private beach clubs open to the Punta Mita community. It spills down the hillside on terraced levels, giving every lounge chair a view of the clear waters of Litibu Bay. Because of its location at the end of a long beach open to the public, you can stroll all the way down to where Casa de Mita is located and get plenty of exercise.
There's a large infinity swimming pool that's good for cooling off with a drink in hand. The Coritas Kids' Club offers plenty of games and activities for younger guests. There's also a watersports kiosk here with equipment rentals so you can go paddleboarding, sailing, boogie boarding, or snorkeling.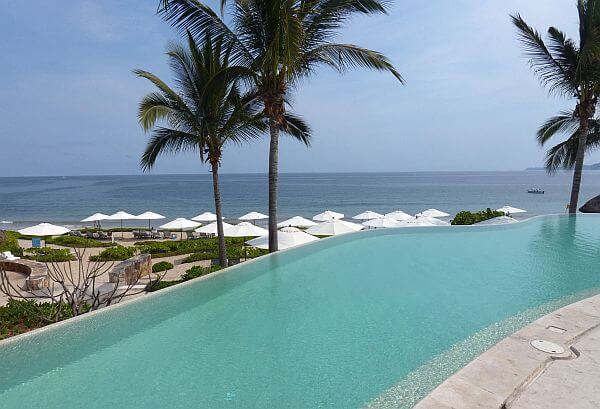 There aren't all that many restaurants in Punta Mita itself: most of them inside the gates are in the two luxury hotels, at the golf course clubhouse, or at the beach clubs. Most of the beach club ones are casual, toes-in-the-sand places, but the Kupuri Restaurant at this club is a different story. It's a sprawling indoor-outdoor affair with lots of seating options and an extensive food and drink menu. There's also a separate bar near the beach chairs and waiters making the rounds to take drink orders. If you want to spend the day at a beach club that feels like a 5-star resort, Kupuri is the best bet.
Pacifico Beach Club Punta Mita
This is the oldest Punta Mita beach club, overlooking the famous "Tail of the Whale" ocean hole of the Jack Nicklaus Pacifico golf course, one of the top golf courses in the Puerto Vallarta region. There's an adults-only swimming pool looking over the beach to the sea, as well as a family pool surrounded by greenery that has a playground also. There are locker rooms if you need to shower and change before heading elsewhere. You can even get a massage, pedicure, manicure, or facial at the Navi Spa within the club grounds.
If you want to get some exercise, this club adjoins the Four Seasons, so you can stroll beyond the club's beach to go a mile or so in all. Afterward, grab something to eat at the full-service restaurant, which is open for all three meals.
This club is on a beautiful white-sand beach, the one you see next to the Tale of the Whale golf hole located on an island.
Sufi Ocean Club at Playa Fortuna
This is the first beach club we visited while we were staying at nearby Casa Fortuna, a luxury villa rental. It was a short golf cart ride away or we could have walked even. It's not huge, but it has a great infinity pool with a view and a very long pier. Boats can dock at the end of it, so you can arrange a fishing trip, sightseeing cruise, or sailing jaunt from here.
The Sufi Restaurant and Sufito Cevicheria Bar sit above the pool and beach, with a great view of Bandaras Bay and nearby mountains. The seafood is about as fresh as you can get and they'll keep the cocktails flowing past sunset if you would like. The beach is rocky here in places, but if you stroll along for a while you can find a place to go for a dip.
El Surf Club at Punta Mita
There's a recharging station for your golf cart here because Punta Mita's most recent addition to its beach club scene is a long way from many homes on the peninsula. Sufi Beach Club is near the Ranchos Estates in a surf break area that's long been popular with experts. You can kick back in a beach chair and watch them ride the waves or you can rent a board or take lessons in an area where the waves aren't as high as you are tall. This club is in a gorgeous, secluded spot where there's not much development around (yet anyway) and it's a relaxing spot to hang out for the day.
You can take a long stroll on the nice Punta de Mita beach, grab some great seafood at the restaurant, and listen to a DJ spin some tunes. In our visit to all of the beach clubs, this one seemed the most popular with families with kids who wanted to play in the water, as well as teens hanging out in clusters. The Surf Club Restaurant has just what you would expect from this kind of place: ceviche, aguachile, tacos, sandwiches, guacamole, and a section of kid-friendly items. They'll bring your order to your lounge chair or you can sit down in the shade to take a break from the sun.
Sea Breeze Beach Club at St. Regis Resort
The Four Seasons and St. Regis have their own beaches of course, and depending on what kind of HOA plan your vacation home's owner has, you may have access to the Sea Breeze Beach Club at St. Regis Punta Mita. It might make sense if you're staying nearby. As with the Sufi Beach Club, the shore is kind of rocky here, so it's a better spot for lounging or walking than playing in the surf. There is a section near the Mita Mary Seafood Boat that's more of a classic white-sand beach though and this is the best spot to go for a dip. The whole area is great for snorkeling and you can rent a paddleboard or kayak to explore the nearby islets.

The lounge chairs here are a bit more plush than at the other clubs and there are some hammocks and day beds to enjoy. The bilingual St. Regis waiters will take care of what you need while you're here.
So there you have it. If you're concerned while checking out the luxury villa rentals in the area that you're not going to be right on the beach, don't worry. Even if you're facing one of the golf courses or are in a condo building, you're just a golf cart ride away from one of the Punta Mita Beach Clubs—assuming the owner has paid for a high enough tier to have access. (You'll get an ID with your name on it that you show at the club's entrance.) Ask your concierge to be sure, then plan on spending a day at one of these lovely spots on the water.
Come take a tour and check them out!